Ajne Survives Glass Wildfire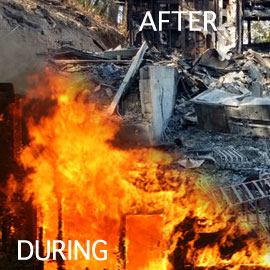 On September 28, 2020, the Glass Fire erupted across the Napa valley, about 4 miles from the Ajne facility.
Jane and Rex had moved Ajne from Carmel to the Napa California wine country because Rex's mom was suffering from severe dementia. Rex's sister was generously providing most of the care and Rex wanted to be closer to help give his sister a break now and again. Because of COVID, Jane and Rex decided to postpone the opening of a new Ajne store and instead obtained a space for Ajne production and shipment.
The winds changed and the fire headed toward both Jane and Rex's home and Ajne at 3 AM on September 29. The fire was so close that fist-sized flaming pellets began to rain down upon the surrounding land. By the sheer grace of the Universe, they were able to get their adopted cats inside the house and then into carriers. Yes, herding cats during a firestorm is just what it sounds like. By this time, fire was glowing both in front and behind the house up the hill. Little other than their pets and a few pieces of clothing made it into the car before they raced away in smoke so thick, they could hardly see. Jane and Rex weren't sure where to go as a hotel likely wouldn't accept pets. If they got out, they'd run away, lost forever. So, they drove 5 hours north to Rex's sister's house in Ashland Oregon - where sadly - another fire had ravaged their small town, just a month or two earlier, displacing 2,000 residents.

On October 2nd, the birthday of Jane's late father, she and Rex learned via a neighbor that their house had perished in the fire. As fate would have it, the Ajne production center also burned. The entire structure and everything in it was completely destroyed. There was nothing left, but ash and rubble. What was worse, was to turn on the news and see the destruction of their home replayed via not only local TV news, but national news like CNN.
But happily, the story doesn't end there. Jane and Rex have been overwhelmed by the generosity of family, friends, clients, insurance and even governmental support. Many people told them that insurance would be difficult and unhelpful. Many told them the County and State would be a real pain. Happily, they have experienced nothing but kindness and understanding from AAA insurance and government officials too. Their family generously made room for them to stay. They even helped build a "catio" for their furry, freaked-out companions. Friends sent care packages of clothing and snacks, sent texts and emails and called to check in. Many businesses offered discounts when they learned about their hardship. And Ajne's many wonderful clients were so very patient with the lack of speedy service and in many cases the canceling and refunding of their orders.

Jane and Rex say, "Thank you all! Words can't even begin to express our gratitude!"
Thankfully, Ajne found a new building, and Jane and Rex discovered a home rental nearby, while they rebuild their home. It's actually in the beautiful vineyards of Coppola and Staglin wineries. They reached out to their suppliers, who helped them restock with the very best quality equipment and supplies. And while Ajne simply couldn't replace the essential oil stock they had lovingly aged for so many years, their suppliers helped them obtain absolutely incredible replacement aroma oils. Ajne is rebuilt. Employees and owners are safe. And it all happened in record time.
So please accept our apologies if we didn't communicate or if we let you down with poor service during the rebuild. We were really knocked down and overwhelmed for a long while. Try as we might, we just couldn't perform. But we're back now, restocked and ready to make it up to you. We hope to re-earn your trust and business and serve you like never before!
With the deepest of gratitude!
Jane and Rex and Ajne