About Our Carmel Showroom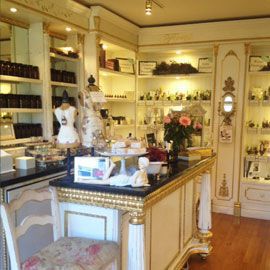 Nestled in the heart of romantic Carmel California, between Pebble Beach and Big Sur, the Ajne showroom is one of the world's only entirely natural perfumeries. In a town famous for its sculptors, painters and poets, Jane Hendler creates liquid art by blending sustainably-harvested flower and plant ingredients of unsurpassed quality.
Entering the showroom, you instantly sense the inviting, delicate scent. Perhaps you will embark upon a journey of self and scent discovery at the antique vanity, where you complete a brief computerized questionnaire that matches your unique body chemistry and preferences to thousands of organic ingredient combinations.
Then again, you may want to take a spin at Ajne's famous scent wheel where you can browse one of the largest collections of pure and organic, plant-distilled oils - some from Ajne's own organic farm and others from small, elite growers around the world.
Ajne's magnificent gold-gilded blending bar awaits you beneath a crystal chandelier. There, Jane and her staff present your products and hand-blend your unique formulation of perfume, body, skin care or ambient scent, as you peruse Ajne's breathtaking collection of handmade bottles, collectibles and scent systems.
The Mystic Roots of Ajne's Alchemy
An extraordinary product and especially a natural fragrance is no less nuanced than fine wine. The art of crafting it demands expertise, passion, a touch of alchemy and a masterful intuition that borders on the mystic. Exceptional blends possesses the power to alter one's mood, enhance well-being and transport you to another mental realm.
Ajne is committed to creating the world's most sophisticated, sustainably-sourced items, which begins with a hands-on relationship with every step of production. Few companies in the world grow, distill and blend plant oils. Ajne does. In addition to our own small organic lavender farm in Carmel, we work with other small growers to obtain the finest 100% natural ingredients. Small farms support entire local economies and help reduce global warming.
And while Ajne has always been rooted in alchemy, we embrace state-of-the-art, natural science. We remain deeply committed to creating transcendent product experiences that revitalize mind, body and spirit. We invite you to join us in our revolution.