Aroma Diffuser Client Story Patron Tequila
We were tremendously honored to work with world famous Patron Tequila to develop their signature scent for diffusion. The goals? 1) Recreate the delicious scent that permeates their breath-taking production facility in Atontonilco, Mexico. 2) The scent had to be healthy and non-chemical so that it did not overwhelm tastings that occur within close proximity. 3) Provide state-of-the-art diffusion equipment that could be easily run by the staff to release the scent into the desired areas.
We were thrilled to learn how many practices our companies shared such as the dedication and passion Patron pours into every nuance of their production process. We invite you to explore the process and experience of the development of Baked Agave. And be sure to take the incredible virtual tour of the Patron facility, fields and distillation - the very same tour that Jane did in person by clicking this link.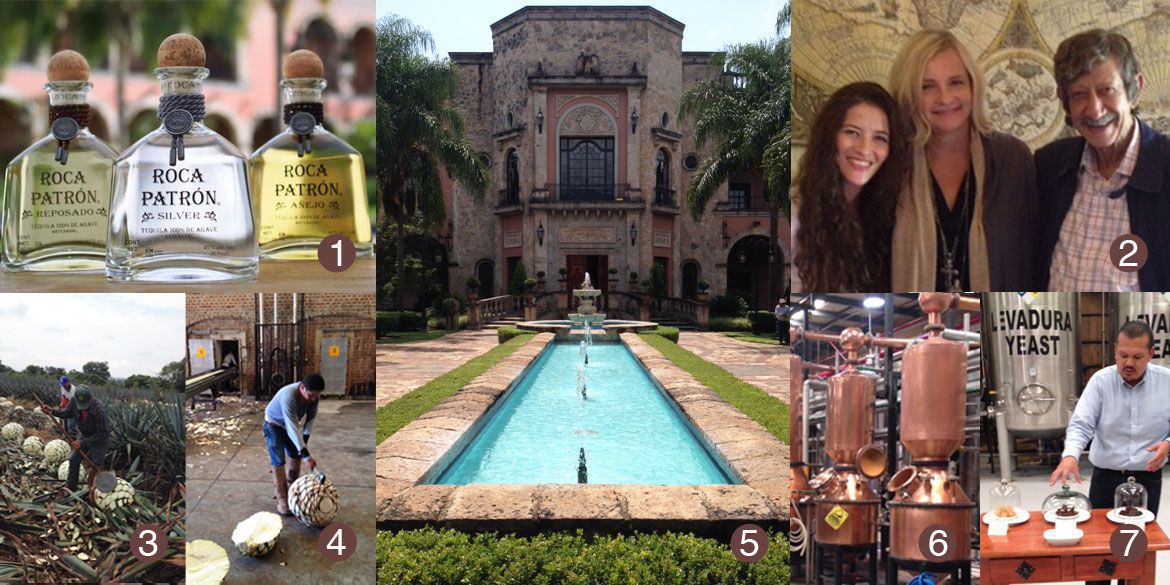 1. Artisanal and beautiful, Patron is harvested and handmade from start to finish from only the finest processes and ingredients - just like Ajne. 2. Jane with Sol and Patron's Founder and Master Distiller, Francisco Alcaraz. 3. Patron contracts 7 years in advance with Jalisco highland farmers that grow the Weber Blue Agave. Here a jimador expertly removes the spiny leaves from the barrel or piña with a razor sharp coa tool. 4. The piñas are brought to the Hacienda where they are split and then baked for 79 hours. 5. The beautiful Hacienda houses Patron's offices, production facilities, tasting areas and guest rooms, There is even a beautiful chapel for the employees. 6. Patron's aged copper stills remove bitter and sulphur notes from the tequila. 7. One bake is too light. Another too dark. The middle is just right - perfect for Patron Tequila.
It Begins with the Details
Patron begins by contracting with only the finest growers of Weber blue agave in the Jalisco highlands. Contracts are made years in advance as it takes 7 long years for the agave to achieve the ideal ripeness. The barrel or piña is expertly cut leaving out parts that could make it too sweet. Next it receives the perfect bake - not too light or too dark. This baking process fills the entire facility with a luscious, intoxicating scent. Some of the notes include honey, tamarind, persimmon pudding and the touch of warm vanilla toast, spice and gingerbread.

Scenter of the Earth
Patron expressed numerous requirements they felt were essential for recreating their Baked Agave scent. All natural. No petroleum ingredients or derivatives. No animal testing. They did not want the scent of tequila itself, but rather the warm essences emitted from the process. And to make this happen, Patron generously invited Jane to stay at their luxurious villa, The Hacienda, and to tour their fields, production and facilities. And with that, Jane was inspired to recreate the luscious scent. Be sure to click the link above to experience the entire tour for yourself.
Handmade Liquid Art

Jane met personally with Patron's master distiller Francisco Alcaraz, who shared his vision and specific goals for the project. He shared his passion for every detail and explained how Patron produces every bottle by hand - from start to finish - and insists on only the finest processes and ingredients. So does Ajne. And with this dedication in mind, Jane began the process of recreating Baked Agave note by note from its delicate top to its spiced heart and warm depth. It was a quest of passion - and one that yielded the intoxicating scent of Baked Agave.
EXPLORE
What Aroma Diffuser Clients Say

Mary T.

"When guests visit our resort, one of the first things the often mention is the warm, magical scent they encounter upon arrival. Many ask how they can take it home. You should see them smile when we point to the gift shop!"
Charles S.

"Our company has spent millions to completely surround our clients in our brand experience. Yet it makes me smile to think that one of our most powerful tools - our proprietary scent - is perhaps the least expensive part. But it's one the clients mention often."