About Our Founder Jane Hendler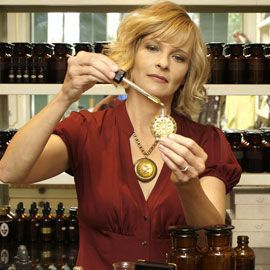 Founder, Natural Perfumer, C.M.E.O.T, Herbalist
Jane recalls that she began her love affair with the magical scents and healing properties of aromatic plants as a child playing near her neighbor's lilacs in Chicago.
"The intoxicating natural scent completely captivated my imagination," she shares. And that passion for scent ultimately drew her to the world of beauty where she worked first as a sales person, and eventually a Vice President for a large beauty product company. And while Jane loved organic ingredients like lavender and cedar, she dreamed of formulas containing far more exotic plant ingredients and combinations ~ some reputed to possess powerful healing properties.
And with that, her life's dream became clear. Inspired to pursue her passion, Jane followed her nose on a 12 year quest, completely immersing herself in self-study and attending accredited institutions as she studied every nuance of plant alchemy, formula construction and distillation. She graduated as a certified Master Essential Oil Therapist and Herbalist.
Jane's training and passion enabled her to share her gifts as a natural, organic perfumer and product formulator. She combines ancient alchemy with the latest technology to source, grow, distill and blend the world's most breathtaking plant oils into the finest, safest, 100% natural and organic perfume, skin care, body care and ambient fragrances.
Today, Jane and her company Ajne have become widely recognized as a leader in natural scent development. She is blessed to have produced perfumes for many famous celebrities including Pierce Brosnan, Kerry Washington, Jessica Biel, Terrence Howard, Debra Messing, Kristen Bell, Alanis Morissette and hundreds more. Jane also crafts scents for ambient diffusion in numerous well known and respected businesses such as Four Seasons hotels, Rosewood Hotels, Intercontinental hotels, auto dealerships, aquariums and even hospitals.