How to Select the Best Scent Diffuser for You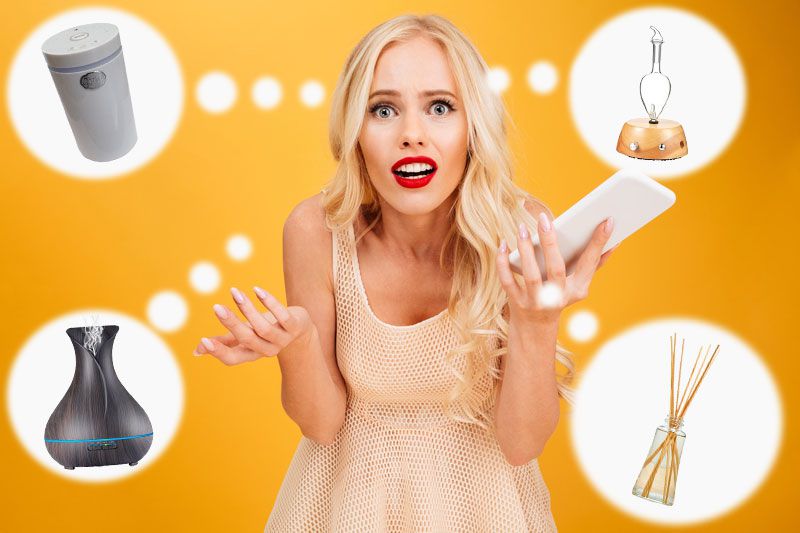 Many people want to scent their house or office, but find the plethora of aroma diffuser styles and huge differences in pricing absolutely overwhelming. What's the difference? Why do some cost more? Is it safe for my family?

They make a purchase and many tell me they end up disappointed or worse...

And the shopping sites are extremely confusing. I did four searches on one site. I searched "water-free scent diffuser" and "waterless aroma diffuser" and "best scent diffuser" and "essential oil diffuser". All 4 searches showed the very same diffusers - only varying the order! And nearly all the diffusers they showed used water completely disregarding my search terms. I'm an expert! How would a non-professional even know what they were seeing?
We've been building and providing diffusers to hotels, businesses, aquariums and even hospitals since 2005. We know diffusers! So here's your quick expert guide for home and small office diffusing:
There are 5 common types of diffusers for home and office use. They are ultrasonic vaporizers (most common), reed diffusers, fan diffusers, vacuum diffusers and nebulizing diffusers. What are the benefits and drawbacks to each?
Ultrasonic or Water Vapor Humidifiers

The most common 'diffuser' is an ultrasonic style, which is actually a humidifier or vaporizer. They use a ceramic diaphragm that vibrates at an ultrasonic frequency to create water particles that silently pour out as a 'cool fog'. They are very inexpensive (typically $20 to $50) and come in a wide variety of attractive designs. The downside? Water. What you see coming out of the machine is not scent, it's water vapor with just a few micro-particles of scent from the 10 or so drops you dripped into it. As such, there is little if any aromatherapy benefit. If you live in a humid climate, you may see nothing coming out!

But there is a more important safety issue! I can't even tell you how many people have said to me, "My family has been having respiratory issues since I bought one of these." Why? The first cosmetic chemist I ever trained with, Robert DeLanza, told me, "The minute you add water without sufficient heat or refrigeration, mold starts growing." Consumer Reports confirms his statement. CR found that each and every ultrasonic unit they tested began growing and emitting mold into the air unless it was cleaned daily! Even those marketed as "anti-microbial", "anti-bacterial" and "germ free" emitted mold! So if you don't have time for daily cleaning (like me!) or already have enough moisture in your air or are concerned about your friends and family breathing in mold spores, you may want to consider alternative technology.
Don't be fooled! A few drops of essential oils in a vat of water will not be sufficient to kill the mold! You would have to make 20 to 30% of the liquid pure essential oil. That leads to the problems that water and oil don't mix, it may not mist properly, and it would be expensive. If you've ever seen how much water these go through, you'll know what I mean. I recommend more efficient and cost effective options below.

Reed diffusers are another inexpensive option. They work great for small spaces like bathrooms. Typically the scents that come with them are synthetic – made from petroleum or chlorine based chemicals. However, if healthy air is important, there are some essential oil reed diffusers. The downside is that they can spill, they will only scent a very small space and require flipping the reeds daily. Make sure to choose one with a wide stable base. The cost is as little as $20 to hundreds.
Fan type diffusers - one with a pad that gets a few drops of scent (left) and one that uses a chemical scent cartridge (right)

Fan diffusers use batteries or AC to run a fan that blows air over a pad or gel cartridge. They are very effective at putting out scent and the forced air expedites aroma delivery. Here are the drawbacks: First, they use much more energy than the other technologies. Second, fans are loud. The other choices are quiet. If you choose gel cartridges, they are non-recyclable and derived of synthetic chemicals. For a 100% natural solution, you can get fan diffusers with a pad that you drip essential oils onto. However, they will only work for small spaces. The fourth consideration for this type of diffuser is the most important. I find the scent level is almost impossible to regulate. When you first drip aroma onto the pad or put in a new cartridge, the scent is strongest. Each passing hour, its potency diminishes. Five, ten or twenty days later, who knows? Costs are usually $50 to as much as $300 for this type of diffuser. And refills can be expensive, i.e. 30-day gel cartridges can be as much as $80 each.
Vacuum style diffusers use an aquarium pump
Vacuum diffusers are the units you see with small glass tubes inside a larger glass bulb. They may have a cover that hides the glass bulb making it look more modern. The very same pump used for aquariums powers them. It vibrates a rubber bladder to create airflow that blows from a curved glass tube across the top of the other. This creates a vacuum that pulls liquid scent or essential oil up and emits it as small droplets of mist into the air. They typically cost between $49 and $150. So what could go wrong? Actually this is a great inexpensive diffuser if... a) you don't mind the loud "aquarium" buzz, b) you treat the glass very gently, and c) you clean it weekly by soaking it in alcohol. If you do these things, it will last a year or more. The problem is I've never seen one last more than a year. People rarely clean them. The fragile glass breaks during cleaning. The chemical scent or essential oil hardens and clogs the tiny glass tubes. Then the pump bladder gives out pushing against the clog. You hear the buzz, but no aroma comes out.

Nebulizing diffusers do not use water. They use a high powered pump to micronize the scent.

In my opinion, the best diffusers for the price are nebulizing diffusers. They work with a pump that puts the scent under extreme pressure causing it to micronize into particles of 1 or 2 microns in size. So they don't float down and coat floors and furniture. By comparison, an aerosol particle is 50 to 100 microns. They're can be small and affordable or super powerful. Some scent up to 2500 square feet! They don't use water - so no mold! 100% of the emitted aroma is pure scent. And every burst produces the same scent strength level from the first day to the bottom of the bottle.
People that want natural healthy air usually prefer nebulizing diffusers. They are ideal for pure essential oils, which are anti-bacterial, anti-fungal, anti-viral and anti-microbial. So you are actually cleaning bacteria, fungus, mold, microbes and many viruses from the air! Hospitals are saying that unlike synthetic anti-germ blends, essential oils are highly complex and effective at killing stubborn germs like MRSA!
Most nebulizing diffusers have programmable daily on and off settings, as well as burst and rest periods. They can be easily adjusted for the size of the space and cost only pennies per day to run. Set it and forget it until you refill. If it's a good machine, it will last for years.

Are there any downsides? Well, it depends on your point of view. They are usually a little more expensive. Prices range from as little as $99 to as much as $275 for all the bells and whistles. Once you have the scent in them, you can't tip them or the scent will pour out the top. So they have to stay upright. Oh and I should mention, they make a little noise only when the scent is emitted - about the level of a whisper (15dB) on a good machine – a little louder on cheaper models. But that's something to consider if you will use it when sleeping if you are a very light sleeper. It doesn't bother most people, but consider that when locating it.
One important tip is to only use the essential oil and blends recommended by the manufacturer. Many blends will clog your diffuser and require service or void its warranty.
And one last thing, if you or anyone that will be in your space has severe asthma, be very thoughtful and careful about emitting aroma. Consult your physician. If your doctor is OK with it, perform a test with very small subtle amounts. If there is any discomfort, discontinue the process immediately. I have clients with chemical sensitivities that claim the essential oil scents help them. However, my evidence is only anecdotal.
It is impossible to guarantee that someone can't have a reaction. What I can tell you is that our company diffuses scent into thousands of hotels, businesses, homes, aquariums and even hospitals. Other than a person or two that did not like a particular scent, I have yet to hear of anyone experiencing an allergic response. Again, that doesn't mean it's impossible. I always recommend the use of essential oils (which are always pollen free) and keeping the aroma subtle. My rule: 15% of people should not even notice there is any scent – that's subtle.
The bottom line for spatial scenting is to do your own research. I always value independent sources over company-sponsored materials. For example, numerous non-industry and governmental studies indicate that synthetic and chemical scents can cause mild to severe reactions in 16.9 to 32.7 percent of the population. According to WebMD, fragrance chemicals are some of the most widely recognized irritants. On the contrary, essential oils (which are free of pollen) when inhaled at suitable recommended levels are generally regarded as safe according to numerous independent studies posted by trusted sources such as the US Library ofMedicine.
I look forward to your questions and comments and hope this information helps you find the best scent diffusion machine for you. Thanks for reading!