Best Places in Carmel California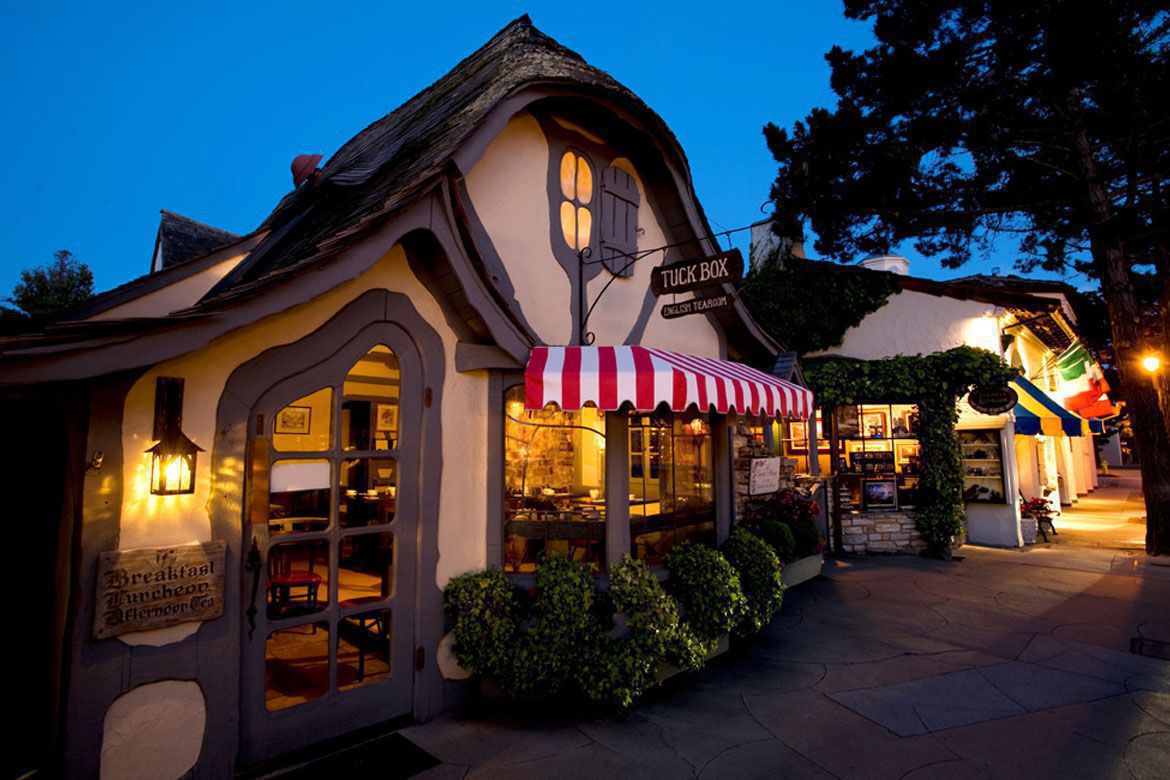 There's nothing like local knowledge. When Rex and I travel, as we find a favorite place, we are sure to find a local that (since they're in the store or restaurant we are visiting) seems to share our tastes. Well, let us be your local! If you are visiting the Carmel area, here ar
e
some of our favorite places that you won't want to miss! CARMEL CARMEL RESTAURANTS Casanova (Mediterranean/Most Romantic and if you're lucky, you'll meet Walter and Sylvia - the owners) - 5th at Mission
· Grasings (Coastal Cuisine - often voted as a 'best local chef') – 6th at Mission
· Vesuvio (Italian - Best rooftop deck with fairy lights and the owner Pepe is great fun) - 6th at Mission
· Flying Fish Grill (Seafood - a hidden gem with an asian flair) – Mission in Carmel Plaza
· Aubergine at L'Auberge (Amazing Farm to Table - 5 course and 5 star - SF quality) – Monte Verde at 7th
· Cultura (unique Mexican with a twist) – Delores at 6th
· The Cypress Inn (Doris Day's Inn! Best Dog/People Watching and great bar) – Lincoln & 7th
· Tommy's Wok On a budget? (San Carlos between 7th and Ocean) good Asian food at very reasonable prices
· Mission Ranch – View of the ocean and good food. Get your Clint Eastwood sighting (behind the Carmel Mission)
· The Forge in the Forest (Local hideout. American/Great Outdoor Lunch) – Junipero & 5th
WINERIES – CARMEL
· Albatross Ridge – San Carlos at Ocean
· De Tierra – (great fun ambiance) Mission at 5th
· Galante – (best reds) Delores at 7th
STORES/GALLERIES – CARMEL
· Bee Bark & Moss (Handmade Market Bags, Gifts) – San Carlos Square
· Loes Hinse (Local Clothing Designer - Dutch designer that makes all her own designs by hand) – San Carlos Square
· Travis Hall Gallery (Voted as one of the Top 25 Painters in the Country) – Mission at 6th
· Anne Thull Gallery (Local Furniture/Unique Fine Art Designs) - 5th at San Carlos
· Bittner – The place to go for pens (Ocean and San Carlos)
· Pilgrims Way (Independent Bookstore! Really! Lots of great metaphysical books and a great hidden garden) Delores at 6th
· Carmel Art Association (Don't miss Local Artist Gallery) Delores at 6th
· Diggidy Dog (Everything a pet could want) – Ocean at Monte Verde
· Jan de Luz (Custom monogrammed linens, unique gifts, authentic antique furniture) – Delores at 7th
· Trio (Vinegar/Olive Oil Pairings and wine tasting too!) – Delores at 7th
· Eco Store (Eco/Green Home and Gift Store) – San Carlos at 8th
· Beachwood Home (Coastal home furnishings, gifts, décor) – Carmel Plaza
· Cheese Shop (Cheese Heaven - great place to find picnic items for the beach) - Carmel Plaza
· The Mole Hole (A Carmel best shop with items you won't find anywhere else - best xmas ornaments) – Mission at 7th
CARMEL, BIG SUR, MONTEREY AREA
OUTSTANDING VIEW RESTAURANTS AND BARS
· The Highlands Inn - Fantastic outdoor deck with heaters, whitewater & sunset views. Great bar for a drink and appetizer.
· Rocky Point - Best waterfront location. Watch the whales go by inside or out with a drink and app
· Post Ranch – Ocean and Earth meet sky! Condor fly-bys. Best pomme frite. Reservations essential! Try one of Ben's fab desserts
· Ventana Inn - Recently remodeled. Amazing lunch with ocean vistas on a sunny, warm hilltop. Bring your sunscreen.
· Nepenthe - Casual lunch or dinner with unsurpassed views - the former love nest of Orson Welles and Rita Hayworth!
· C Restaurant at the Intercontinental on Cannery Row - Oceanfront. Fantastic lunch outdoors or dinner inside
· Schooners at Monterey Plaza Hotel - Right on the water for lunch
· Roy's at Spanish Bay - Pebble Beach. The best seafood with views to match
· Spanish Bay Lobby Indoor/Outdoor Bar - Ocean views, fire pits, bagpiper at sunset, live jazz in the evening, magic…
· Pebble Beach Lobby Bar - Ocean & famous golf course views, vintage old world Carmel feel
· Big Sur River Inn – Sit in a chair in the river sipping your fav drink, listen to live music in the summer/fall on Sunday
· Big Sur Bakery - total Big Sur feel. Great pastries and coffee. And a fantastic organic dinner
· Deetjen's - Hidden gem for dinner in Big Sur. Alanis Morissette's fav too!
LOCAL ATTRACTIONS
· Carmel Beach - Walk from end to end, picnic or have an evening campfire South of 13th
· Scenic Drive - Carmel – Drive the one way along the ocean or walk the path viewing the ocean and fairytale homes
· Point Lobos – Highlands - Walk endless trails with breathtaking views, must see China Cove
· 17 Mile Drive – Unparalleled views, plus Pebble Beach and Spanish Bay Inns
· Pacific Grove Coast – Drive or bike along and stop at the many beaches – especially in Feb/Mar when the ice plant is hot pink
· Highway One to Big Sur – Indescribable beauty! And please pull over to view and take pics! It's called Highway One for a reason!
· Pfeiffer Beach in Big Sur – Magical! Don't miss the ocean carved rock arch!
· Pacific Grove, Cannery Row, Monterey Municipal Path – Easy tour to walk, jog, bike
· Monterey Bay Aquarium – One of the best in the country. Great for kids too.
· Carmel Valley Wine Tasting Tour – Ride the trolley into the Valley for tasting
BEST ENERGY WORKER
· Wayne Hoff – 555 Webster Street, Monterey – 831-818-6980 – Rex is 2 inches taller and a year younger after getting "Wayned"!
MASSAGE THERAPIST & AESTHETICIAN
· Angela Guerra – Cornerstone Day Spa, Monterey – 831-809-7941
LUXURY SPAS
· Bernardus – Carmel Valley (Ask for Angela Guerra and the Spa Director Gina is a gem!)
· Casa Palmero - Pebble Beach – Hey! It's Pebble Beach!
· Ventana – Big Sur
RETREATS (Reservations required so call ahead)
· Esalen – Seminars, amazing ocean views, natural hot springs, spa
· Tassajara - Buddhist Monastery, seminars, amazing mtn views, hikes, hot springs – sometimes they are sequestered in silence – call ahead
BEST HIKES
· Big Sur – Julia Pfeiffer Burns Park – Ewoldsen Trail, Also Molera Park
· Garland Park – Carmel Valley – easy to big climbs all in one place
· The Pinnacles - Soledad – like you found the huge rocks of Joshua Tree here! And you'll see condors!
CARMEL VALLEY WINE COUNTRY
WINERIES – CARMEL VALLEY
· Georis – Pilot Rd, Camel Valley Village – The Georis' – Walter and Silvia - are a local treasure. Their band – the Sandals - did the soundtrack for the documentary Endless Summer. Walter is a fab artist. They are documentary filmmakers, winemakers and restaurateurs! Talk about genius! Wow!
· Cowgirl – Pilot Rd, Carmel Valley Village (local CV feel!) Don't miss the rose. The winemaker Damian, from Georis' native Belgium, is super talented.
· Talbott – (next to Cowgirl) Award winning chardonnays and pinots
· Bernardus – Carmel Valley Rd, Carmel Valley Village – every wine they make is good – great rose, reds and chardonnay. The winemaker Dean is gifted.
RESTAURANTS - CARMEL VALLEY
· Lucia Restaurant and Bistro (Bernardus) – Outstanding lunch outdoors & dinner indoors
· Corkscrew – charming lunch outdoors by the fountain. You'll think you just stepped into Mallorca
· Carmel Valley Ranch – Dinner at this beautiful Carmel Valley property. Saddle up at the bar.
· Roux – great tapas spot for indoor or outdoor right in the village
We hope your trip is fantastic. Carmel is the most beautiful town in California and in the center of nature's jewel – the Big Sur coast. Don't miss it! And we hope you will stop by Ajne Natural Fragrance Co. to say hi!
We look forward to your comments and suggestions!